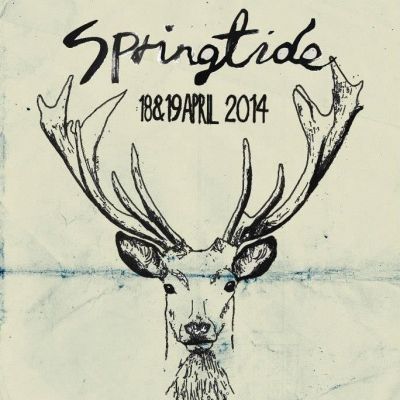 Springtide Festival is a new addition to the Hampshire music scene, and takes place over part of the Easter Bank Holiday Weekend in Gosport. That's just a 15min ferry ride from Portsmouth if you didn't know. Not only is it giving local artists a huge platform and the boost they all truly deserve, but they've got some of the most exciting acts of 2014 coming down to perform as well. I'll be there on the Saturday for a whole lot of dancing, whilst mooching about the clothing stalls and hey, I may even get my face painted too!
Here's my tips for who to check out if you're planning on coming (which you should be!)
Fickle Friends.
With only two singles, Brighton's Fickle Friends are causing quite a stir in the music industry. Their charming, upbeat melodies are winning hearts all over the UK and they'll undoubtedly bring some summer vibes with their performance.
Eliza and the Bear.
If you caught Paramore on their UK tour last year, then you would have caught Eliza and the Bear getting you all warmed up beforehand. Championed by Communion music and big name Radio DJs, these guys have got a big career ahead of them. And they have trumpets.
Young Kato.
Fresh off their tour supporting You Me At Six, Young Kato are going to bring a bit of a party to Springtide. They've got that perfect blend of pop-rock that'll have you up on your feet and loving life for their entire set!
Pixel Fix.
I finally caught Pixel Fix live recently and their music in completely blew my mind. Their EPs are full of hauntingly brilliant atmospheric indie sounds, with cuts and twists throughout and it just becomes something on another level live. You'd be a fool to miss their set.
Bear Cavalry.
Gosport's finest export. Tropical indie-pop music at it's finest. I've lost count of the amount of times I've seen Bear Cavalry live, but I never bore of them. Bringing a lovely dose of the seaside with them, no matter where they play.
The Boy I Used To Be.
Okay, so I maaaay be a little biased as I used to work with Mr Edward Perry, aka The Boy I Used To Be. But, he's put a lot of hard work into his new EP and always a little charmer when he gets on stage. For a little distortion with your cheery indie music, The Boy I Used To Be is perfect for a Saturday afternoon.
Nathan Newman.
Heart-melting, beautifully written songs are what Nathan Newman is so good at creating. If you like Ben Howard, Damien Rice and Benjamin Francis Leftwich then you'll fall in love with Nathan.
These are just my top picks from the weekend, but there are tons more bands playing across the two days, plus a special acoustic stage to get excited about. For more information, and to purchase tickets visit:
http://www.springtidefestival.com/