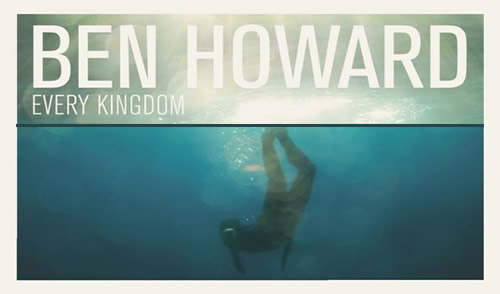 There must be something in the air down in the West Country, as over the years it has churned out more exciting musical talent than cheese and cider, one of them being twenty three year old Ben Howard.
Originating from South Devon, Ben grew up listening to the likes of Jeff Buckley and Joni Mitchell, which appear to have heavily influenced the music he's been writing over the years and that now appears on his debut album 'Every Kingdom'.
The album begins with 'Old Pine', which was released as a single earlier this year. The first minute or so of the song is a build up of instrumentals, which set the tone for what's to come from the rest of the album.
One of the traits of Ben's music is to layer his vocals on top of each other to create haunting harmonies that make for an almost enchanting listen. From the first track, it is a clear this album is a triumph, there's so much texture to the music, with bass drums, cello and tambourines giving more of a dramatic edge.
As the album progresses his nimble fingers pluck the strings in a majestic fashion while mixing in percussion slaps on the guitar, a skill that not many can master, therefore only emphasising the talent Ben Howard has.
The album also includes previously released singles 'The Wolves' and 'Keep Your Head Up'. Even though they didn't exactly chart high, both have incredible rhythm and gained Ben the recognition he deserves. The music video for 'Keep Your Head Up' also probably has one of the best concepts ever, who wouldn't enjoy building and riding down a ridiculously large water slide that runs through the countryside? The single is an excellent self-esteem booster with lyrics "keep your head up/keep your heart strong' which, when accompanied with the excellent guitar playing can only leave you with a smile.
Not every track is filled with happy melodies though, songs such as 'Black Flies' and 'Gracious' have more of an edge to their sound, the lyrics are mournful and the pace has slowed to create a different type of mood. Not to say these are the worst of the songs, they're probably just not the ones to listen to if you are feeling a bit down in the dumps!
There have been many folk-pop artists appearing recently and it may seem that there surely can't be room for anymore? But Ben Howard is an artist that every folk fan should make space for in their record collection. If you enjoy the likes of Newton Faulkner, Jack Johnson and Damien Rice then there is no doubt that 'Every Kingdom' will be up there in your favourites.